Getting a fair deal on roof replacement is easy when you know market rates. Here we will help you estimate Asphalt Shingles Roof cost and explain what goes into your final quote, or how roofers price their work!
First you need to understand that while material prices are very similar for small and big companies, what components get included with your job, determines overall quality & longevity, as well as material costs for contractors.
x
Low End
Mid Range
High End

See Costs in Your Area!
Start Here - Enter your zip
In this guide we will show what goes onto Low-end, mid-range and High-end roofing jobs, and why some contractors can charge as much as $100 per square more or less than others.
Materials vs Labor Breakdown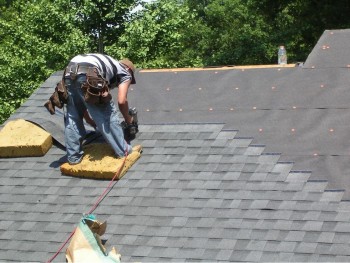 Before you read further, I recommend that you DON'T try to estimate how much a roofer will make off you. It will make you very angry and distrustful, for no reason!
Also you need to understand that LABOR cost in the calculator above, include WORKER SALARY, OVERHEAD and PROFITS. Keep in mind that roofers do not work for free, it is a very hard work, and also dangerous. So I believe it should be adequately compensated for.
Now let's look at how much materials should costs, and how much goes to Salary, Overhead Costs and Profits.
If you use our Roof Materials Calculator, you will see that shingles + all accessories will run about $150-180+ per square. These are all components required to be used if the job is certified!
Here is a breakdown of how much shingles cost in US:
| SHINGLE PRODUCT | COST |
| --- | --- |
| 3 – Tab (standard) Shingles | $25 – 30 / bundle or $75 – 90 / square |
| Standard Architectural/Laminated Shingles | $28 – 32 / bundle, or $84 – 96 / square |
| Premium Architectural/Laminated Shingles | $45 + / bundle |
| Energy-Efficient/Cool Shingles | $40 + / bundle |
And here are accessories prices:
| ACCESSORY TYPE | COST |
| --- | --- |
| 15 / 30 lb felt | $21.25 / roll. Covers 400 / 200 sq. ft. |
| CHEAP Ice & Water shield | $98 per roll. Covers 200 sq. ft. |
| GOOD Ice & Water shield | $139 per roll. Covers 200 sq. ft. |
| Hip / Ridge Cap | $46.93 / bundle. Covers 20 ln. ft. |
| Ventilation (ridge vent) | $50.25 for a 20 ft. roll of Cobra ridge vent |
| Synthetic Underlayment | $84 for 400 sq. ft. roll of GAF Deck Armor |
Considering that average roof in US costs $3.36 per square foot, materials run as much as 50% of total job cost.
The truth is – even if you live in very low price region, the material cost won't be much different … maybe 5-10% tops.
Ideally for roofer, the materials to labor ration should be 40/60%. This is when they make enough money to be a sustainable business, and provide good quality work.
Now as for labor, You should figure 60-65% goes for Salary and Overheads (dumping fees, building permits, operating costs, etc.) and the rest goes as contractor profit.
This means that if a job costs $4900, with 40/60% ratio of materials to "labor", contractor makes $1029-1176 profit.
To better understand what goes into roof labor, read our Roof Installation Costs guide.
Install Roof Shingles

$4872


Average price

Install Metal Roof

$10253


Average price

Install Flat Roof

$8257


Average price

See costs in your area Start Here - Enter Your Zip Code
Skimming on Ice and Water Shield to save money = low quality roof
It is essential to use quality underlayment (my personal favorite is GAF DeckArmor) and in many states, also using Ice and Water Shield (I&W) along roof eaves (per building code). I&W shield is used to prevent Ice Dams. Now, code specifies I&W installed 3 feet up the slope, past exterior wall. This means at least 2 rows of I&W underlayment on every roof where it is required.
What you need to know about Roof Underlayment:
However, what many contractors do is either not use Ice and Water shield at all or use 1 row (3 feet) of cheapest granular surface I&W. But since most homes have at least 1 foot overhangs, the I&W only goes 1.5 feet past exterior wall. And so on…
Just so you understand real cost differences. 1 roll of #15 felt costs about $20 and has same coverage as 1 roll of Grace Ice and Water Shield. However, Grace product costs $140+ per roll (7 times more expensive). When you need to use 2 rows of I&W on each slope, that is at least 3 rolls for average roof, or $420 (vs $60 for #15 felt). Now when you consider that average roof in US costs about $4900, not using I&W shield saves the roofer about 7.4% off the total job cost (cash in the pocket).
That is how you get Low end prices, where roofers do similar work for seemingly 20-30% less!
Average Roof Replacement Cost in US:
Low End

$4793

Mid Range

$5752

High End

$7350

See costs in your area Start Here - Enter Your Zip Code
What goes into High End roofing job?
Many contractors want to stand out from the crowd of CHEAP ROOFING, and differentiate themselves, using premium products. However, those premium products often don't mean your roof will last longer.
For example, before the recent "marketing semi-scam" when 30 year warranty architectural shingles became Lifetime shingles, we used to have 3 major categories – 30, 40 and 50 year shingles. Main difference was THICKNESS of product. Thicker meant longer life span… in theory. However, since MOST homes do not have proper ventilation, thicker shingles often would dry up and start to crumble prematurely, giving these products bad rep.
TO deal with this problem, roof manufacturers started to make Certification programs, such as GAF Master Elite, SELECT ShingleMaster™, Owen's Corning Platinum Preferred Contractor, etc.
These certified contractors (typically) install your roof, following every step of manufacturer's specification. This means they repair wood rot where needed, ensure your roof has proper ventilation, install flashing in required places, use proper nailing patterns, etc. Basically if you have a certified contractor install your roof, chances are you will have better quality, longer lasting products, at a premium cost (20-30% higher than average 🙂
But there is always a caveat – not every certified roofer will follow guidelines 100% of the time, or may get a sub-contractor crew (working for peanuts) doing your job, and then you won's great quality, even when you pay premium price…
Getting best quality roof at reasonable cost
The secret in my opinion is to ALWAYS work with a "smaller" owner-operated contractor, where owner actually does the work! This gives you 80% chance to have great results.
Second, I recommend that you understand basic roof components, and why they are used, and have contractor lay out what exactly they will do, and take pictures of critical areas, such as Chimney & Skylight Flashings (especially back flashing), valleys (valley I&W shield and nailing / weaving of shingles – there should be no nails within 1 foot of valley center), ventilation, such as ridge vents (including cut-outs), soffit vents, baffles, etc.
Proper Valley Shingling Video:
It's also great if roofer has some kind of certification from manufacturer, and provides copies of construction / roofing licenses & insurance certificates.
I really don't recommend having a Handyman do your roof. It's just not worth the future problems.
Best of luck with your roof replacement project!
Leave this empty:
Refer
Your Estimated Roofing Cost
Roof Price:
Cost per sq. ft.
Roof Size:
Roofing Material:


See costs in your area Start Here - Enter Your Zip Code

This roofing guide is presented by Leo B.
Have a roofing question or issue? Ask me anything!